Our Leased Lines are an ideal solution for businesses where speed, reliability, and security are imperative, and reducing downtime is of primary importance to ongoing operational efficiency. Our 3 managed internet solutions provide internet connections that are built for customers who are looking for a premium service and access to Unity's own network – alongside a range of supplier networks. We give you options and peace of mind that we can provide you the connection and support that meets your needs with competitive pricing.
Given that our connection are always fully managed, dedicated, and come with up to a 4-hour fix time, you can be sure that you are setup with a reliable and supported connection. And with classic options that will give you a 100% uptime, you can be confident that your connections are built for maximising your operational efficiency.
Speeds
With Unity Leased Lines, get the speeds that are required. Unlike a standard shared broadband line, a leased line connection is exclusively the business's. Enjoy a guaranteed bandwidth with higher symmetric speeds – even during peak times.
Business Continuity
With the need for business to transfer data, process orders and communicate externally becoming prevalent – internet is now a business-critical feature. Our Leased Lines can greatly reduce the impact of poor internet and a business's operational efficiency.
Security
The go to secure option for business, keep connections private. Make  networks less vulnerable to attacks, keeping data secure. Ideal for businesses who handle and transfer data or are concerned about GDPR risks.
Reliability & Resilience
With all connections including 24/7/365 support and guaranteed fix times ranging from 4-6 hours backed up with competitive SLAs. We ensure that any downtime is kept to the bare minimum.

Our dedicated operations team are always on hand to support, working with you to ensure you get the best service. 
For a limited time we are offering Leased Line Solutions from as little as £180 p/m for 40/100 over a 36 month contract to customers (subject to terms and conditions).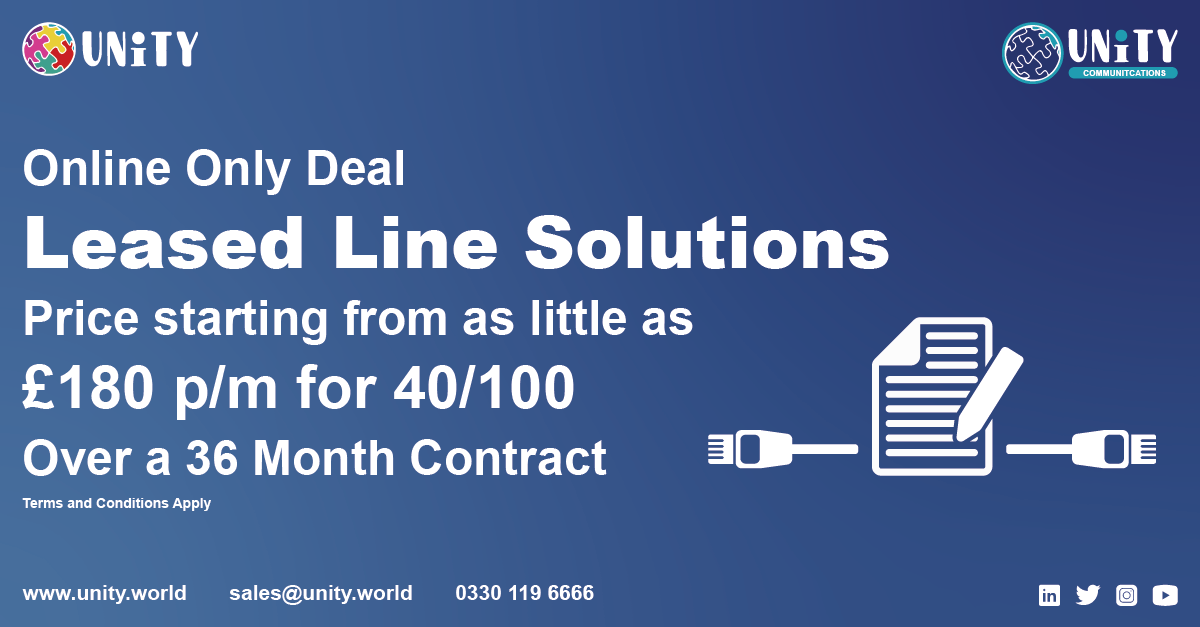 Request a Leased Line Quote
Fill out the form below in order to receive a Leased Line quote.
Enquire Below
Fill out the form below or call us on 0330 119 6666 or email us directly at sales@unity.world